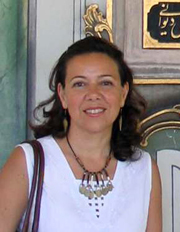 Ph.D. Architecture University of Wisconsin - Milwaukee, 1995
Environment – Behaviour Studies in Urban Design
M.Sc. Architecture Cairo University - Egypt, 1989
Human Aspects in Housing and Residential Environments
B. Sc. Architecture
Cairo University - Egypt, 1984
Dina K. Shehayeb, is a professor in the Institute of Architecture and Housing, at the Housing and Building National Research Center (HBRC) in Cairo, Egypt, as well as the principle of her private consultancy firm Shehayeb CONSULT. Graduated as an architect in 1984, she earned her Ph.D. Degree in Architecture and Environment-Behaviour Studies from University of Wisconsin - Milwaukee in 1995 focusing on human aspects in design and planning. Specialized in transdisciplinary research, she works on bridging the gap between the physical built environment and its socio-psychological and cultural dimensions. She applies this knowledge through research and practice on affordable/appropriate housing, community-based neighbourhodd planning, historic area conservation, and design guidelines, both nationally and internationally. She worked with the Aga Khan Cultural Services- Egypt, German Technical cooperation - GTZ, Egypt, the Institut de Recherche et Development _ IRD, France, the UN-Habitat Gender Unit, Niarobi, Oikodrom, Vienna, and UCLA on commissioned research projects and research-based intervention in upgrading and rehabilitation projects. She serves on several committees such as Code development committees in Egypt and Advisory Boards for UN-HABITAT and other inernational organizations. She has more than 25 publications in scientific journals, conference proceedings and international reports and is an editorial board member in 2 international scientific journals. She teaches research-based design on part-time basis in several departments of architecture. Recently she was appointed by the Ministry of Social Solidarity to develop design crieria to guide, monitor and evaluate service facilities, special user building types, and human and social development projects.
Interests for Future Practice
Participatory Upgrading and Urban Development: practiced within an integrated socio-physical development agenda and an enabling policy approach to include needs assessment, and participatory design practices.
Housing Design and Neighbourhood Planning: Assessment of Qualitative Housing Needs in the framework of Adequate, Appropriate, and Affordable Housing to suit the various lifestyles of user groups based on cultural sensitivity to ensure sustainability of plans and regulations.
Heritage Conservation, Urban Regeneration and Socio-economic Revitalization: based on understanding the socio-physical dynamics that help sustain the "living" heritage in historic areas, as well as areas with valued character.
Resarch-based Design Guideline Development: in the fields of architecture, housing, urban design, and city planning such as "enabling" standards and procedures for culturally appropriate low-income housing.